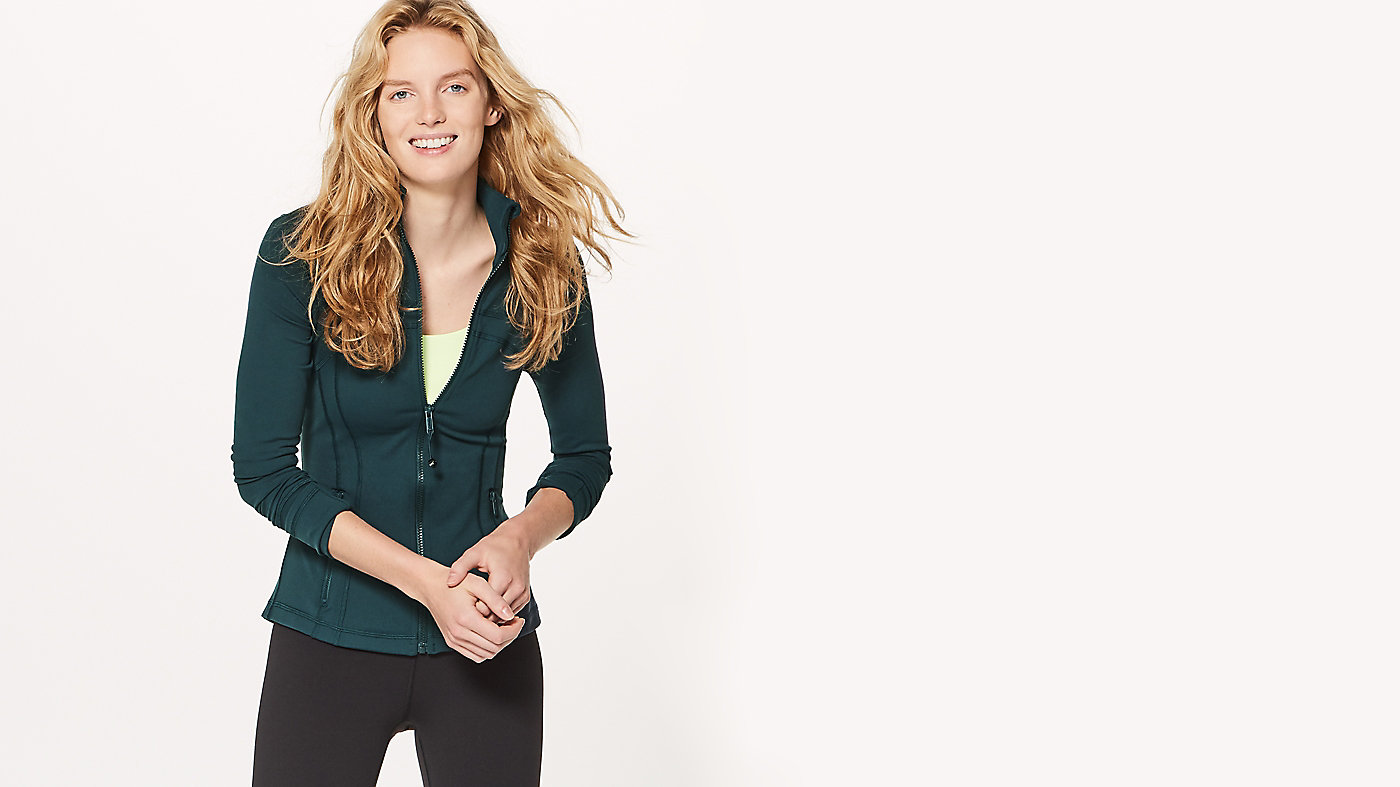 ---
lycra®
Added Lycra® fibre for stretch and shape retention
---
Thumbholes and Cuffins™
Help keep sleeves down and hands warm
---
SLIM FIT
Fits close to the body
---
hip length
Layers easily and stays out of your way
Define Jacket
is rated out of
5
by
1135
.
Rated

5

out of

5
by
CelinaBallerina
from
Beautiful Jacket
I recently went into Lululemon to purchase the define jacket in the seascape color. it is absolutely beautiful and fits like a glove. The fit is perfect and I love the unique features this jacket has to offer. I highly recommend adding this jacket to your Lulu closet.
Date published: 2017-06-24
Rated

5

out of

5
by
Erinyogi
from
Perfect!
This jacket fits perfectly. It isn't too long and isn't too short. Being 5'8, I often find that the jackets can be too short, but this one is perfect. The material is nice and soft too!
Date published: 2017-06-24
Rated

1

out of

5
by
sw88
from
Disappointing quality!
I love the look of this jacket, and was so excited when I first purchased it. The fit is amazing, and it's so comfortable and flattering. Unfortunately, it's only been 2 months and it's already pilling like crazy and just doesn't have the same feel anymore when I wear it. I treat it as I do all my lulu gear - cold, gentle wash cycle and hang to dry. Such a bummer because this jacket was otherwise living up to all the hype I had heard about it
Date published: 2017-06-23
Rated

4

out of

5
by
LinB
from
Wow I look good
When I saw this on WMTM my heart fluttered in my body. I have been yearning for this piece since I tried it on in store and when I saw it marked down I jumped. I went back and forth between wanting the jacquard black and white and the coco pique black and white. I decided on the coco pique in black and white, because it showed more contrast with the black stitching. It was a great decision. I am a little worried the fabric will snag and pill and this is my first time wearing it so I can't say that won't happen. The cuff is also large and the sleeves seem a little too long than what I am used to. They are a little blulky because of the hand warmer and the thumb holes, I don't think I will ever use the hand warmer. I will say this though, I look amazing in this jacket. It hugs and curves and sits perfectly everywhere. That's what you pay for folks, for the engineered body perfection that only Lulu can give you. Would I recommend this to my friend? Yep I would. It is well made and soft and comfortable and perfectly tailored. I hope it stands up the test of wear for a long time because this will become as much as a staple to me as my scuba hoody has been. I have a closet full of Lulu, and I am not ashamed.
Date published: 2017-06-23
Rated

2

out of

5
by
Sherbear02
from
Disappointed
Love this jacket but it is unravelling on the sleeve and I bought it only a few weeks ago and have only washed it once. For as much as it cost it shouldn't be doing this already.
Date published: 2017-06-21
Rated

5

out of

5
by
Emski
from
Great investment!
Love this jacket! Be careful when ordering online, I found I needed a bigger size than usual. Otherwise, this jacket is great for any activity! Quality seems great and can be great as an added layer. Very happy with how the product is lasting!
Date published: 2017-06-20
Rated

5

out of

5
by
Spittfyer
from
Versatile jacket
The Define Jacket is my favorite Lulu item to date. I have it in 3 colors so far. This Jacket can be worn at this gym, under a heavier coat, or as a jacket to match any outfit regardless of the occasion.
Date published: 2017-06-18
Rated

2

out of

5
by
dcgirl3424
from
Looks great, but doesn't hold up to wear
I loved this jacket when I first bought it, but it doesn't hold up to any sort of athletic wear. The armpits are completely pilled underneath after only a few months. It looks years old now. For the price, it shouldnt break down so easily. I brought it in to my local store and they told me that it was a "low impact" fabric so there was nothing I can do and that I shouldnt have used the jacket for running. Disappointed.
Date published: 2017-06-17
Rated

2

out of

5
by
francescamelani
from
Great jacket - but, as usual, NOT IN WHITE
Is anyone else SO tired of lulu's white products? I am an extremely, extremely good Lulu customer, and have had it up to here with the white! This jacket is TERRIFIC. It is so great after my hot yoga, or any intense gym session. I live in hot South Florida, and I need something post-studio/gym that alleviates the shock from hot heat to blasted air conditioning and this does the trick! Yet, inevitably, after a few months, my jacket, which is ONLY washed with other WHITE lulu products with Woolite Gentle Cycle Laundry detergent. This is such a shame. This jacket is gorgeous and the perfect weight. I received so many compliments when I first purchased this. It looks horrible now.
Date published: 2017-06-14
Rated

3

out of

5
by
Number7
from
Great Jacket
I absolutely love this jacket , but would love for it to be a bit longer!!!! I won't buy anymore because of how short they are and wish we had a choice of a longer length. I feel the choice on this staple jacket would be wonderful , don't you guys :-)?
Date published: 2017-06-14