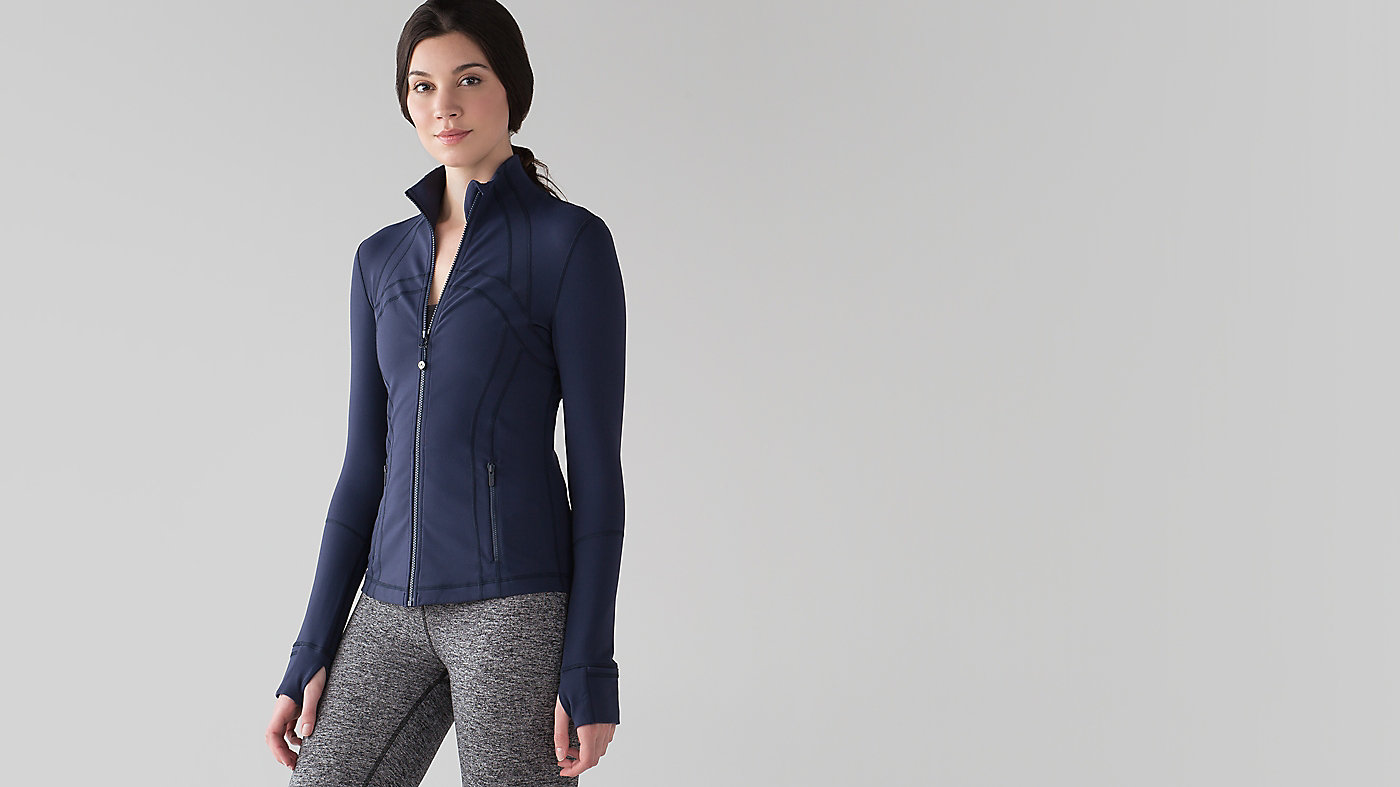 ---
lycra®
Added Lycra® fibre for stretch and shape retention
---
Thumbholes and Cuffins™
Help keep sleeves down and hands warm
---
SLIM FIT
Fits close to the body
---
hip length
Layers easily and stays out of your way
Define Jacket
is rated out of
5
by
1114
.
Rated

5

out of

5
by
Catxx
from
Perfect lightweight jacket
I highly recommend this jacket to anyone looking for an everyday layering piece. It's perfect to wear to and from hot yoga classes when it's chilly outside and also morning or evening runs that are a bit cooler. It's lightweight enough to be tied around your waist when you start to get warm. I also love wearing it running errands or to class when I'm feeling casual but still want to look put together. For reference I am 5'4, 32b, 115 pounds and I ordered a size 4. I am typically a 2 or 4 in lulu tops, and thought the 4 would be best to layer tanks underneath. I may consider ordering the 2 for my next define jacket as it was a bit looser than expected, but still a great fit. My only complaint is that the sleeves aren't as fitted as I would've liked around the wrists.
Date published: 2017-05-23
Rated

5

out of

5
by
Judys
from
Everybody needs at least one
This is a great product. If I could I would buy it in every color. It keeps you slightly warm, holds your body for running, and it has a beautiful design. I've washed it so many times and it still looks brand new.
Date published: 2017-05-19
Rated

3

out of

5
by
dehhbs
from
Weird Wrists
the wrist areas for the jacket are too big and it is very unflattering. When im running, they flop around a lot and there is just too much space. Wasnt the best purchase and definitely expected better.
Date published: 2017-05-18
Rated

2

out of

5
by
wmsummer
from
I loved it but..
I got this jacket as my bday present last October. I wore it less than 10 times since then and like what other reviewers commented, piling has gone bad. I only hand wash it with no dryer so it must have been the quality of the fabric. The fit is amazing but now the jacket looks cheap with piling.
Date published: 2017-05-11
Rated

5

out of

5
by
lovetosweat11
from
has stood the test of time
I got this jacket in black almost a year and a half ago and it still looks as good today as it did when I first got it! I wash it fairly frequently (but never put it in the dryer) and I have had no problems with pilling or seams coming undone. It is flattering and warm. It is my go to jacket for going to and from my work outs, as well as just everyday casual wear. I am looking forward to getting another when I finally decide what color to get next!
Date published: 2017-05-09
Rated

3

out of

5
by
Shebop
from
Nice fit, but.........
I bought this jacket for my daughter in December of 2016, so it's only been about 5 months that my daughter has been wearing it. While she has a plethora of Lululemon, this is her first jacket. It fits her beautifully. It's her favorite jacket in terms of fit and comfort. However, the jacket has already started pilling. I have had to use one of those pilling shavers a few times to keep the jacket from looking horrible. The texture of the material has changed too. It's really weird. She still wears it because she loves the jacket. For the price, the material should hold up longer than 5 months. She really would like to order a second one in a different color, but I am not confident the material would hold up.
Date published: 2017-05-07
Rated

2

out of

5
by
Solace4376
from
After many, many jackets from Lululemon, I may be done...
I've bought so many Lululemon jackets, maybe a dozen in the last 10 years or so. I LOVED the Define and Forme jackets and I have worn one of the two almost every day for years. And when I say every day, I mean EVERY DAY. In February of this year I decided that it was time to replace the 4 jackets I had in rotation and purchased 3 Define jackets in February 2017. After just a handful of washes there was piling and loose threads. I opted to return the one remaining jacket I had with tags still attached to Lululemon and resigned myself to the fact that I will have to just live with the sub-par quality of the other two. Today I noticed another loose thread and decided to reach out to Lululemon with my disappointment. The gentleman I chatted with was gracious, offered me a gift card in exchange for a lengthy return process wherein I will wait for a return label 24-48 hours, return (Smartpost), wait for them to process, wait for them to mail the gift card, then re-order another. I am frequently frustrated with customer service; that was not the case with Lululemon per se, but I will say that I have had some AMAZING service from other companies like Zappos and Fitbit as of late. In a nutshell, Zappos refunded my purchase price of a pair of fairly pricey, faulty pair shoes without me having to return and wait through a lengthy process; they also advised that they would not want to put me out further, and allowed me to keep the faulty shoes in order to not be without until I was able to find a suitable replacement. "I certainly do not want to further inconvenience you with returning this item. You are welcome to donate it, trash it, turn it into an art project. It's totally up to you, really! I have notated your order to indicate that you were advised there was no need to return this item." Fitbit sent a replacement for a lost Fitbit within 12 hours of my request, no questions or lengthy processes required. I wish Lululemon would follow in their footsteps as $126+ for three jackets in less than two weeks, that are questionable in quality, at best, for the price, would keep me as a loyal, lifelong customer. As of today I am beginning the process of finding a replacement for my beloved Lululemon jackets.
Date published: 2017-05-05
Rated

2

out of

5
by
Mele19
from
Nice Jacket but terrible Pilling
I recently purchased this jacket and within two washes, the jacket already started pilling along the sleeves. The jacket is a nice style however it is not the quality I expected from this brand.
Date published: 2017-05-03
Rated

2

out of

5
by
TrainWithStyle
from
Flattering jacket but questionable quality
I initially fell in love with the jacket and how it fits, but soon realized after a few washes, the pilling was very apparent. I follow the ideal lulu washing tip, but this still happens? This is very disappointing because I paid so much for it! I bought the jacket in black, so the pilling makes the jacket very unflattering.
Date published: 2017-05-01
Rated

5

out of

5
by
Lululemonfave
from
Love them
I absolutely love this jacket. Our dance studio used these jacketss for our competitions all of the time. There is never any piling, tearing, or anything coming apart or uncomfortable. I love this and I have nothing that's bad about it. Keep up the good work!
Date published: 2017-04-30