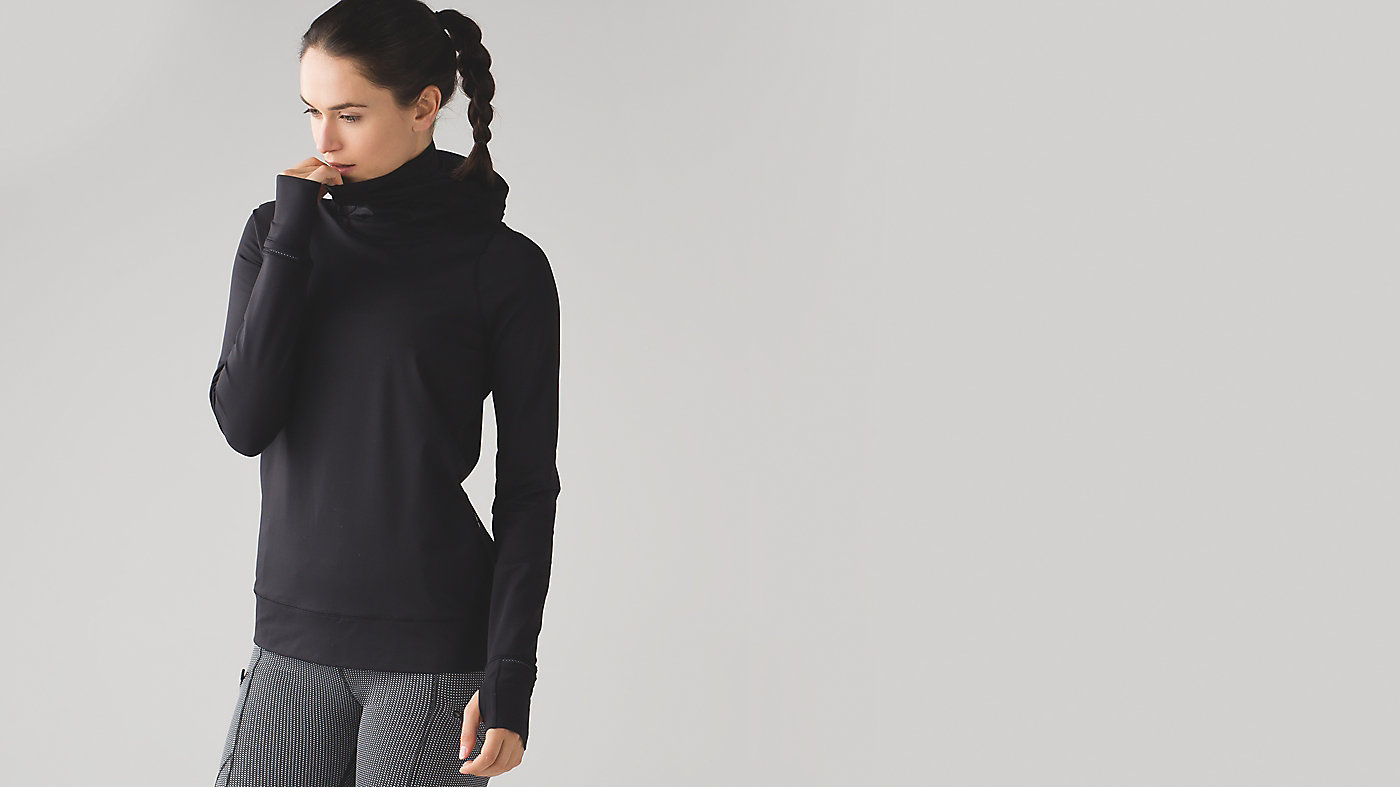 ---
lycra®
Added Lycra® fibre for stretch and shape retention
---
set-my-ponytail-free™ window
Lets you wear your hood up with a ponytail
---
Thumbholes and Cuffins™
Help keep sleeves down and hands warm
---
Reflective detail
Intentionally placed to help keep you visible in low light
---
hip length
Layers easily and stays out of your way
Cadence Crusher Hoodie
is rated out of
5
by
16
.
Rated

3

out of

5
by
Jennimax
from
tight fit
wouldn't be suitable for winter but coolish weather yes. Glad I didn't pay full price for this item as it fits snug. I bought a 10 and could have used a 12. 10's usually are still big on me but can add layers under. Cute design though.
Date published: 2017-05-04
Rated

2

out of

5
by
elisabethe
from
Beware of the fit!
I was so excited to get this, but for some reason, my hoodie came complete with REALLY tight arms. I've never had this problem before with any garment (lulu or otherwise) and my arms are not out of the norm. I think this may have been cut/sewn poorly. You can try and order a size up? This garment will be unwearable for me, too restrictive :(
Date published: 2017-03-29
Rated

5

out of

5
by
AnnaBar
from
Can't believe you can still buy this on sale!!
This is the best product I've bough from Lululemon so far, even better than all my lulu tights. I'm a runner and there are a few things that I can never find in one hoodie... 1) a hood that stays on my head, this one stays on my head and is snug because my ponytail keeps it snug; 2) I often have to wear some type of scarf because my neck is cold and pull it up over my mouth and nose... not anymore! This hoodie has a piece of fabric that you CAN BREATHE THROUGH with either your nose or your mouth, with zero issues, I promise, its such a cool material that keeps you warm and lets you be able to breathe; 3) and of course, I hate wearing gloves (even lulu gloves) when I run because then I have to take them off to change my music, check my phone, etc. sooo this hoodies solves this problem too because it has "cuffins" so you can just flip the cuffins in an out with one hand if you need to use your phone, and seriously keeps your hands warm, I was on a run yesterday with -5 degrees and I was not cold at all when it comes to my hands (I had a vest on as well). Anyways, I'm super happy that this candice crusher hoodie exists, thank you for putting all these 3 things into one hoodie which you can't find anywhere else, please make more. If you are still debating this hoodie, its on SALE don't even think twice.
Date published: 2017-03-20
Rated

5

out of

5
by
vintriago96
from
Great for outdoor running
This hoodie kept me warm during a February race in Central Park. All I had over it was a t-shirt and it was perfect. I love that I had the option to use the hoodie and face mask at the start of the race and once I heated up, I took them off. This will be an excellent hoodie to wear for my future winter runs. I hope Lululemon makes more!
Date published: 2017-03-12
Rated

5

out of

5
by
Yogarun4ever
from
Functional and very flattering
I just love this! I'm so glad I got this while it was still available in my size, got all 3 colors. I love all its features. Fit is true to size. I'm 5'8, 128lbs, usually size 6 in tops, size 6 fits perfectly, very flattering. If it's available in your size, I suggest you get it while you can!
Date published: 2017-03-11
Rated

5

out of

5
by
FittishMotherRunner
from
Cold weather running game changer!
This top is my new favorite for cold weather running. It has all the right features! Warm fabric that's not heavy, face mask, hood with ponytail hole (definitely helps keep the hood right where it needs to be) and cuffins. I have worn it in 25 degree weather with a cool racer back underneath and rebel runner vest (with the fresh tracks tights) and was perfect! I have absolutely no complaints!
Date published: 2017-03-10
Rated

5

out of

5
by
MzLada
from
Great hoody!
Can;t believe this is on sale! I paid full price for this, although I do not regret it….just wish I would have saved a few bucks The fir is great and so is the feel. It is a little roomy, but I went with my usual size, because I hate having that tight feeling when layering. I wear it underneath a run for cold vest. In the -15-18 C I felt warm…even a little hot on the back. I wore a Swiftly LS, the hoodie and the vest. I think it might be a little too thing for anything colder, but it could still work in you have a coat over it. Love the balaclava! Overall, great purchase this year for me with this one. I recommend
Date published: 2017-03-02
Rated

3

out of

5
by
legz4days
from
I wanted to love this
I just bought this for full price 3 weeks ago. I thought it had a lot of neat features at least on paper. I find the material is not very warm and when it's cold enough to actually need the face mask my arms were cold. I wish you could unzip it at the neck since it's more of a moderately cold out jacket and I get warm when running. I find I'm either too warm or too cold when wearing it. The pocket is super small too. I run with my iphone and I have to jam it in there. It does fit, but barely. I wear a vest over it, but if it's really cold you would need a running jacket or warmer hoodie for your arms.
Date published: 2017-02-18
Rated

4

out of

5
by
BabaO
from
Ill-fitting mid-section
I love the color (deep indigo), the functionality of the cuffins, baclava, ponytail hole, and the brushed luxtreme. It's a very cozy top. But....the mid-section is weirdly loose. I initially ordered an 8, then exchanged for a 6 (I'm a 34c and either a 6 or 8, just depending on the cut and usually err on the larger size to be safe). The 6 fit better everywhere else but the middle was still loose. It looks better when pulled down but doesn't stay for long. I was hoping this would be the be "the one" and I'd buy all colors, but the search continues. I did keep it despite the fit. I have not run outside in it and probably won't, because Minnesota; I don't think it's warm enough for our typical winter days.
Date published: 2017-01-24
Rated

5

out of

5
by
CupcakesandKettlebells
from
Ahhh-mazing Piece
I've worn this snowboarding, snow tubing, snow shoveling, running and to run errands and this piece does not disappoint! It's cozy, comfortable, and fitted/roomy in all the right places. I highly recommend this top for all things chilly.
Date published: 2017-01-22