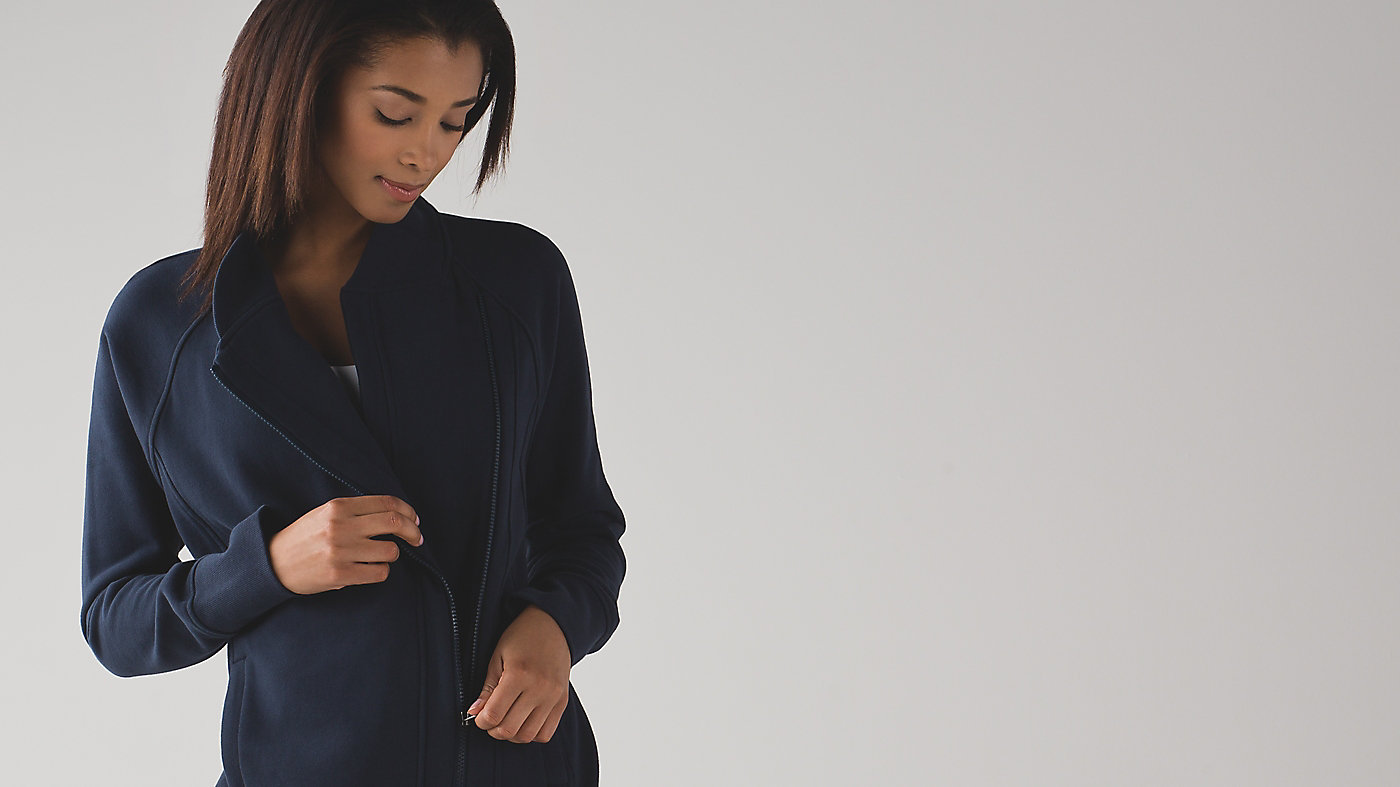 ---
two-way zipper
Zipper is easy to adjust on the go
---
hidden pocket
Stash your essentials in the hidden pocket
---
Locker Loop
Locker loop makes for easy hanging
Back To It Wrap
is rated out of
5
by
23
.
Rated

5

out of

5
by
Erinyogi
from
Love this!
I don't usually write reviews, but I love this sweater! I did size down, but it fits perfectly! It looks great open or unzipped. The material is like butter. For reference, I am 5'8, 130 lbs. A lot of people said that it was tight in the butt, I did not have that problem. The negative reviews had me worried, but I am so happy I went ahead and bought it!
Date published: 2017-06-24
Rated

1

out of

5
by
ElisVan
from
Navy blue is now navy blah!
I purchased this in navy blue online in Feb so I paid full price for it. I have always washed it with other lulu dark colours in cold using ONLY fine fabric wash for dark colours. Despite my best efforts it is now sad and very faded to a very unfortunate color. It just hangs in the back of my closet mocking me for spending my clothing budget on something I have barely worn and won't really wear again. Save your money even the sale price is too much for this piece!!!
Date published: 2017-05-16
Rated

2

out of

5
by
Krissy04
from
Loved the Back To It Wrap but I am very disappointed
I loved the Back To It Wrap probably one of my favorite sweaters but now I can't even wears it. After one wash and after following the washing instructions the retaining box fell off and i can't wear it any more. I can't zip it up without it coming undone. I payed good money for this and I expected it to be good quality. I am very disappointed.
Date published: 2017-04-24
Rated

2

out of

5
by
Triciaruby85
from
Price way too high
Ok this is love. Size down. I wish I could buy more direct from wmtm but it's so hard when these are $30 in the outlets. I paid usd but that with ship and tipping my angel it's still so much less. Would be great if there was some of the outlet pricing with the wmtm markdowns. Everyone is loyal to lululemon hands down. I need a new closet and can't stop myself but with the pricing still high with wmtm I just look elsewhere for deals and buy on FB Please consider my feedback. I know I am not alone here.
Date published: 2017-04-20
Rated

2

out of

5
by
Tambam11
from
Loved it - But Dissapointed
I loved this sweater when it arrived. It is warm, cozy and stylish and is the perfect replacement of a coat as the weather warms up! After one wash however, I am extremely disappointed. The sweater is now completely discoloured after following the washing instructions. I have a lot of lululemon items and have never had an issue with wash/discolouration. For the price of this sweater, I am extremely let down.
Date published: 2017-04-20
Rated

4

out of

5
by
LifeLongLuluFan
from
I would give this a 5 star BUT....
I should have listened to the reviews and sized down to a 4. It does run a bit large and when it's zipped up, it doesn't hug the waist, but I do find it VERY cozy and warm. Perfect for going to and from the yoga studio and for going out for walks with my dog. It's also very soft feeling. I do prefer this sweater over my Scoobie hoodies due to the softness and cozy feel.
Date published: 2017-04-15
Rated

3

out of

5
by
Shapeshifter
from
order it 2 sizes smallerand maybe??
so well made so nice has stretch & so soft!! a shame. the fit is huge. really huge... I am 138 pounds a 34DD and I'm 5'4. my waist is about 28 or 29 my hips are 39.5. the size 8 felt like an xxl on me, it was so slopy I could have worn at 9 months prego... based on my measurements an 8 should be perfect but it was unflatteringly large... beautiful though too bad it wasn't flattering on :( one side is gappy and baggy and the other is nice and taught. like being a size 8 on one side and a size 14 on the other.... also I had a terrible choking sensation when I zipped it up :( it made me look fat and boxy didn't flatter me its just too bad :( it fell just past the bum and if it was a snugger fit would make your caboose look super cute...the light grey was beautiful its just too bad the fit was a deal breaker.. so bad my husband burst out laughing and said " omg, you look like you are from next generation, you know when they had to dress formal.." I didn't feel very sexy in a 139$ jacket to say the least..... at least I got a laugh when I googled star trek next generation formal wear........ :D maybe I should have ordered a size 4 ??? LOL
Date published: 2017-04-07
Rated

3

out of

5
by
Lulu4all
from
Fit is Off but Two-way Zip Helps
I bought this at my local store. I really debated because I do agree with the other reviews that the fit is off; the bottom portion is too small and/or the top portion is too big. If I size up for the bottom to fit better since it's long and snug around your bottom (great coverage especially for tall people!) then the top portion is way, way too big. So, I didn't size up and decided to get it anyway because I loved the thickness of this, the length (being tall that's nice), the collar is different than most jackets I have, and mainly the asymmetrical two-way zipper. I can either not zip this and it stays mainly closed on the front on it's own or if I do want to zip it I can let the bottom zip up about 6 inches to give me more room to walk. Doing the latter I thought that gave it a cute/different look. The store said most people sized up to their "larger" Lulu size but I chose not to. Definitely try on before you buy if possible.
Date published: 2017-04-06
Rated

3

out of

5
by
Cherub
from
Beautifully made, fit is really off
This is a beautifully made sweater of soft, warm and snuggly fleece. I love the asymmetrical zipper and the high collar. I bought it to wear indoors to keep me warm in winter, and outdoors on cool spring days. What I don't like is the fit - it's really strange. I'm 5'9, 150 lbs, broad shoulders and 36D. I used the measuring guide carefully, and based on that I should have ordered a 10. Given the reviews that said to order down a size, I ordered an 8. I have a Scuba hoodie in size 6 and I can barely get it done up, so I certainly wasn't going to order a 6 in this. Well, I should have! The 8 is snug around my bottom, but HUUUUGE in the middle, shoulders and chest. I bought it on WMTM, so I guess I'm stuck with it... too bad. It would be the absolutely perfect sweater if it were more fitted. It's nice and long for us tall people, covers my bottom when I wear leggings, and the sleeves are perfect length. I recommend looking at the cut of this sweater again. Lulu, am I really not allowed to exchange this for a 6?
Date published: 2017-03-30
Rated

5

out of

5
by
Angelclaw
from
Perfect cut and length
for my body type (broad shoulders and back, narrower hips). I'm 5.5, 128 lbs, and size 6 fit me perfectly. I love the high neck, the asymmetrical double (!) zipper, the length and the shape of the Back to it Wrap. The cotton fleece fabric is warm and cozy. I miss the thumbholes on the new designs, why are they being omitted?! It would also be nice to have a colour choice besides black, navy and grey, but I bought the light grey colour (my cat has beige fur, so navy and black are out).
Date published: 2017-03-23