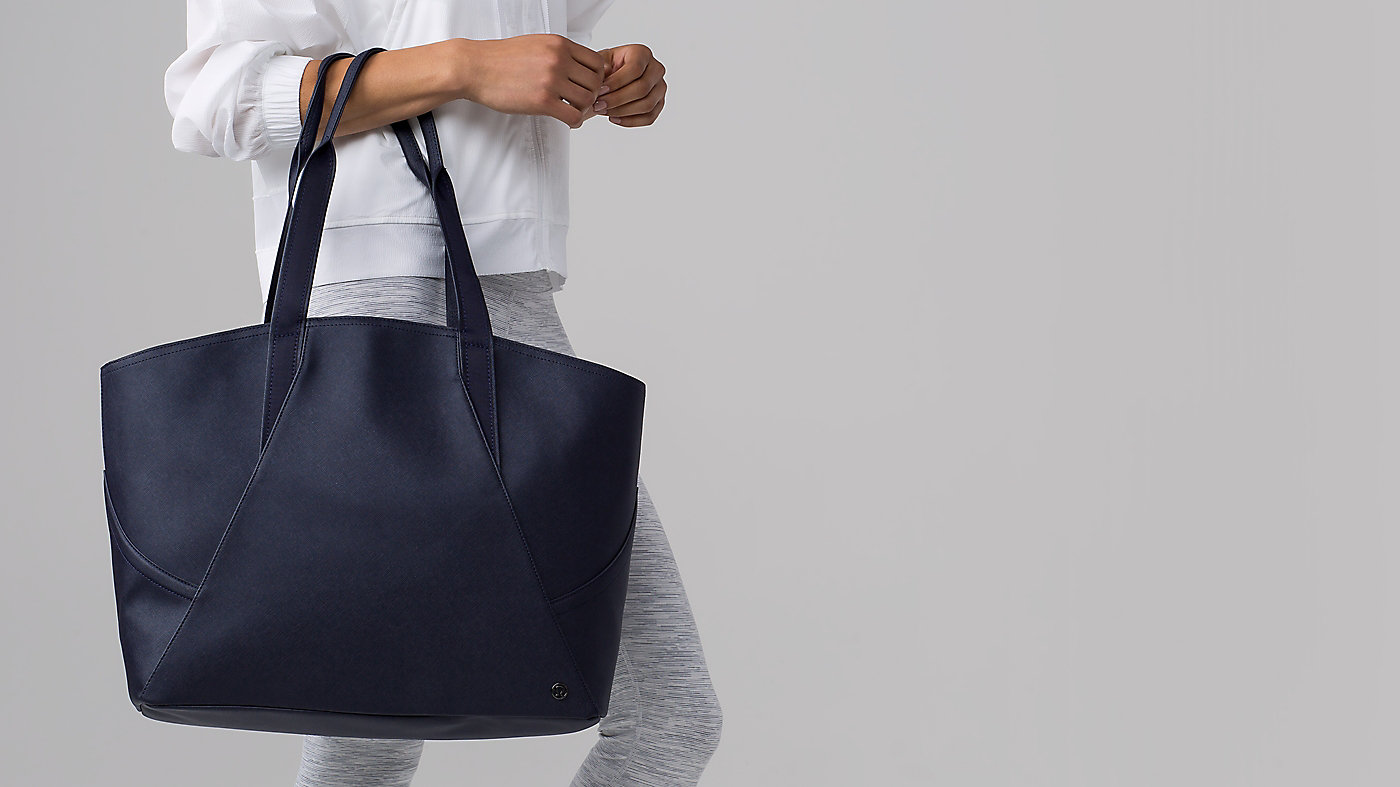 ---
internal pockets
Hold your essentials in the internal pockets
---
interior wet/dry pocket
Helps keep sweaty gear separate
---
DIMENSIONS
42cm x 32cm x 15cm (16.5" x 12.5" x 6"), 26L
---
REMOVABLE POUCH
Removable pouch to help keep you organized. Store in the interior pocket when not in use

All Day Tote
is rated out of
5
by
116
.
Rated

2

out of

5
by
gymingaway
from
really wanted to love it
i'm a diehard lulu fan. i was psyched when i saw the navy bag and rushed to the store after work one day. i bought this bag with such high hopes. The capacity of the bag is great....the potential is there...but, after only using the bag for a week (and i'm a bit neurotic when it comes to taking care of my pricey bags), i noticed the bottom corners have peeled. Why? Why Lululemon, why make something so nice and skimp out on the quality? I want to cry!
Date published: 2017-06-23
Rated

2

out of

5
by
patcheslatches
from
not satisfied
Purchased this bag despite all of the negative reviews surrounding the bag, hoping I would love it. I was extremely excited when it came in the mail as I was really needing a new work bag. It look fantastic, great size it can hold all of my items I need for work. Unfortunately, my bag will not stand up straight... it doesn't matter how much or how little I have in the bag every time I set it down, the corners concave in and is beginning to leave a crease mark on the sides of the bag. I have tried rearranging the items, putting less in and it does not matter it continuously concaves at the bag's corners. I am saddened to write this review as I have paid alot of money on this product and normally have no negative complaints regarding any of my lululemon products... it was my first time purchasing a bag from lululemon and it might be my last....
Date published: 2017-06-22
Rated

5

out of

5
by
HHCC9
from
幸福滿包
大方款設計,成熟男也適用,Man 不娘,背提順手好看 袋內功能實用!眼鏡、錢包、手機、置入小袋分袋不混不亂。
Date published: 2017-06-15
Rated

1

out of

5
by
GymIsLife
from
bad quality
I bought this bag a few months ago and have used it very lightly and noticed the stitching has come out the bottom of the bag. I can literally pull the stitching right out. I have a long read string hanging on the bottom of the bag.... These bags are not cheap and for the quality you are receiving, I wouldn't bother buying them... Also it was my first Lulu bag ever and really quite disappointed it didn't work out well.
Date published: 2017-05-25
Rated

5

out of

5
by
katieatl
from
Excellent bag
I saw a tiny bit of peeling around the bottom corners of my bag within a couple of weeks, but I have been using it now for 3 months and has not progressed. To be honest I would not have even thought about it if I hadn't seen some of the reviews mentioning it. This is my all day bag for work days with laptop and everything I need, plus sometimes for the weekends - absolutely love it. If you think you want this bag, don't let those reviews keep you from buying it! Try and see for yourself how it works out :)
Date published: 2017-05-25
Rated

1

out of

5
by
englishteacher33
from
I thought LULU was better than this...
There once was a time when companies had integrity. They charged a higher price because the product they produced was WELL MADE. Makes sense, right? I always assumed this to be a value of Lulu, and I should not have. It seems they are all about charging up and profiting, while selling a product that lacks quality and is made cheaply. Very disappointed with this purchase. My bag peeled at all corners and I've only had it for 4 weeks.
Date published: 2017-05-18
Rated

5

out of

5
by
MountainMermaid
from
Very Large Bag Fits Everything
I've been using my All Day Tote for about 2 months now, and I have only seen slight wear on the corners at the bottom of the bag. I would say the wear on these corners is not very noticeable. The bag is very strong, I load it up with tons of stuff. My laptop (has 10-key so quite large), fits perfectly along with a change of clothing, and all the other items that go in a purse/yoga bag. I use the small clutch that came with it for my wallet, keys and phone, so I can leave the bag and just take the clutch if I don't need everything else.
Date published: 2017-05-15
Rated

3

out of

5
by
Donger
from
Had potential...disappointed.
Purchased this for my wife for a multi-purpose purse, lunch bag, computer bag. Used it for a few weeks and the strap it came with broke at the buckle. Bag itself has been good but the strap is now useless. The spring in the buckle broke off and fell out somewhere. Now can use as a a hand held tote but no more cross body hands free :(
Date published: 2017-05-11
Rated

1

out of

5
by
Lulufanwindsor
from
Poor Quality - Disappointed for once : (
Well, I got this bag in February. Loved the way it looked so much i didn't even use it for like a month, it was too pretty. But now that i've been using it for only 2 months i can see the wear on all the seems. The fabric is starting to peel and that, to me, is unacceptable for a product that costs $138. This should be a durable, long lasting bag for that price. What's going on LULULEMON??? Not cool!
Date published: 2017-05-10
Rated

2

out of

5
by
SamanthaH
from
Adorable and the perfect size but disappointing
I purchased this bag when they first came out and was so excited! it was the perfect size for work binders and my lunch! but soon became disappointed when the bag that claimed to be water resistant started to wrinkle after i spilled a few drop of water on it. Next the corners started to peel and every time i used it it started to look worse and worse until after a month I stopped using it. I'm very disappointed with it as I paid full price and really didn't get any moneys worth from it.
Date published: 2017-05-10