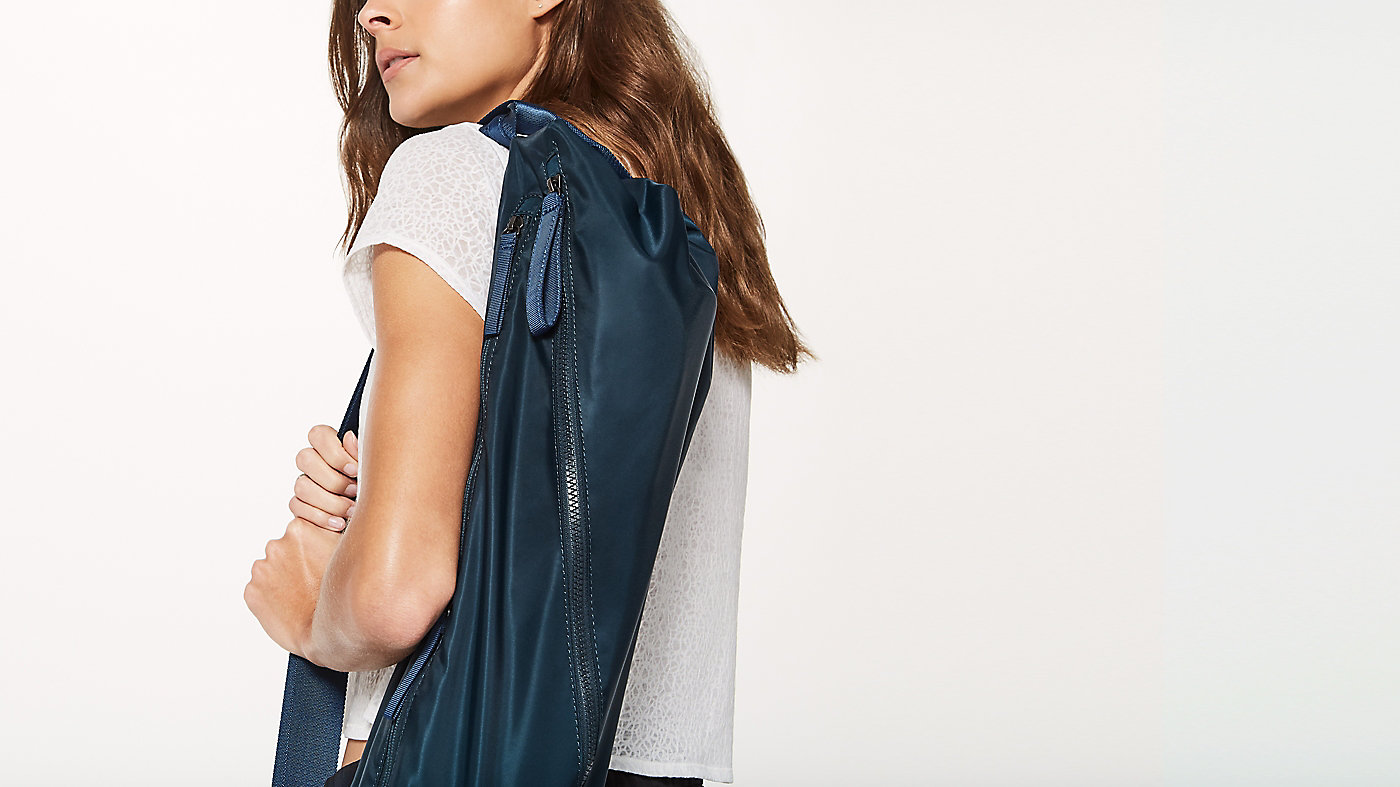 ---
interior pocket
Holds your water bottle
---
PLENTY OF POCKETS
Small pocket at the top for important items
---
Stretch Strap
Removable shoulder strap doubles as stretching strap
---
essentials pocket
Store your must-haves in an interior pocket
---
DIMENSIONS
15cm x 15cm x 74cm (6" x 6" x 29")

The Yoga Bag
is rated out of
5
by
27
.
Rated

5

out of

5
by
coldyogi
from
Perfect for quick trips to the studio
I've had this bag for a couple months and I love it so much. It can fit a yoga mat, two towels, a water bottle, and it still has room for your phone, keys, wallet, lip balm, etc in the outside pockets. Granted I am using a 3mm mat, so this may not be true for everyone. If I'm going to be showering and changing at the studio after yoga, I still have to bring another bag to fit all of those goodies. So if you regularly take a lot of stuff with you to yoga, even though it can carry 50lbs, this bag may not be right for you (it's not quite THAT roomy). I find that it's perfect for just running there and back, which is my normal routine. I no longer have to struggle with a strap around my mat plus a gym bag for my towels and water bottle - it's all in one place. And the outside pockets are perfect for stashing your keys/phone for easy access. I would agree with the other reviews that the strap on this bag is pretty slippery feeling. It's really comfortable for carrying the bag around, but I know just by feeling it that it wouldn't work for me in practice (but that's okay, I don't think I could ever reattach it to the bag properly anyways). I love the ventilation this bag offers, I've had no issues with anything getting stinky. I chose the ice breaker white black colour and it looks great in person. I'd recommend this bag to anyone! If you're on the fence about it, you should probably just buy it already.
Date published: 2017-05-30
Rated

5

out of

5
by
lesanlin
from
Love this bag!
I have this bag in navy, and use it several days a week to carry both my YogiToes and my lulu mat. The big zipper is easy to use and fairly quiet, and there are two smaller pockets for my keys, cell phone, and possibly a shirt if I need it. The shoulder strap does get twisted fairly easily but is just as easily untwisted. The strap is wide and comfortable to use. In short, I have no complaints with this mat and highly recommend it! I also have a slip-on strap for my mats but prefer this one as it carries my YogiToes and has a place for my keys/phone while I practice. LOVE!
Date published: 2017-05-28
Rated

5

out of

5
by
SMyogi6
from
Had to fight the bad reviews!
I had to write this review to help negate the bad ones, because this bag is amazing + holds everything you need and more! I easily fit my Jade Harmony mat, Yogitoes mat towel, Manduka hand towel, and 24 oz. Hydroflask water bottle in mine with no problems! Yes, sometimes I have to shift things around a little, but that's a lot of stuff to hold and the zipper is never strained! I agree a block would not fit well in here, but I don't think a yoga block is a necessity for a class cine all studios have tons of them. I once fit all of the above + another Jade Harmony mat in this bag when a friend forgot her mat and everything STILL fit, albeit snuggly. I did accidently rip the tag on the zipper off one of the pockets that day, because I was rushing and the bag was packed to the brim. However, A. I had seriously packed the bag to capacity as it had TWO regular sized yoga mats inside and B. I took the bag to the store to see if they could replace the tag, which they could not, but instead gave me a new bag for free (!). I walk at least 2-3 miles round-trip to my local studios multiple times/week wearing this bag and have never had any discomfort. I also feel like Katniss wearing it, which is cool. Bottom line: This bag has more than enough room for essentials.
Date published: 2017-05-19
Rated

1

out of

5
by
HollyJo
from
Worst Bag!
I bought this bag to hold my standard size manduka mat, and usually yogi toes and a water bottle. Salesperson at store was sure it would fit these basics. It barely fits my mat!! And it takes me about two minutes to squish it in there. Maybe this bag works if you have a very thin yoga mat, but otherwise it is totally worthless! Would def not recommend. Now i am stuck with a worthless $58 bag.
Date published: 2017-04-18
Rated

4

out of

5
by
LuluColeman
from
Like A Glove
Love the bag. Mat fits perfectly; with a little bit of elbow grease. Only thing I would love to see is a bit more room for a block... Being part of the lulu team, I have had many guests wishing for more room to be able to put a yoga block in the bag. Other wise, perfect!!
Date published: 2017-03-29
Rated

5

out of

5
by
CreeT
from
Hoping for more colours!
I LOVE(d) this bag, almost as much as the person who stole it from my gym locker did! I had the light grey one that was out around Christmas, I like the fabric of that one more than the black and blue shiny ones that are out now. I'm really hoping they come out with more colours so I can buy a new one!
Date published: 2017-03-14
Rated

3

out of

5
by
Meg27
from
Really!? Half the pocket is sewn shut!
I ordered this bag because of the different pockets to hold all my stuff, including my sweaty yoga clothes but when I recieved the bag the pocket for your sweaty goods is half sewn shut! In the middle of the pocket! It's clearly a manufacturing flaw but I expected better quality from Lulu. This is the second product that I've bought that has some weird stupid manufacturing flaw, first it was the mat where all the pink polka dots started to come off after just a week and a half of use and now this! I dont know if I will be buying from Luluemon after this.
Date published: 2017-03-01
Rated

5

out of

5
by
Daisy98
from
Gorgeous color
Love this bag. Color and fabric is really nice and lots of room.
Date published: 2017-02-15
Rated

4

out of

5
by
purpleballoon
from
Overall great yoga bag
I bought this shortly after getting the 5mm mat for Christmas, and it's been working really well. The two zipper pouches can fit my wallet, water bottle, keys, towel, sunglasses, and my swimsuit, cap and goggles, so I'm pretty impressed with the space. It appears to be very waterproof and durable. The only issue that's a little annoying is that the lululemon 5mm mat is kind of a struggle to fit back into the bag if it's not rolled perfectly. Other than that it's a great bag.
Date published: 2017-02-10
Rated

1

out of

5
by
Aiysha
from
Loved the bag but did not last
I loved the bag when I got it. It fit my mat, water bottle, small towel, keys and phone and it was easy to carry around. I tried several bags and this was the best till it started to fall apart. I have only used it for less than 2 months and the seams of the zip is already coming apart. So disappointed!
Date published: 2017-01-25