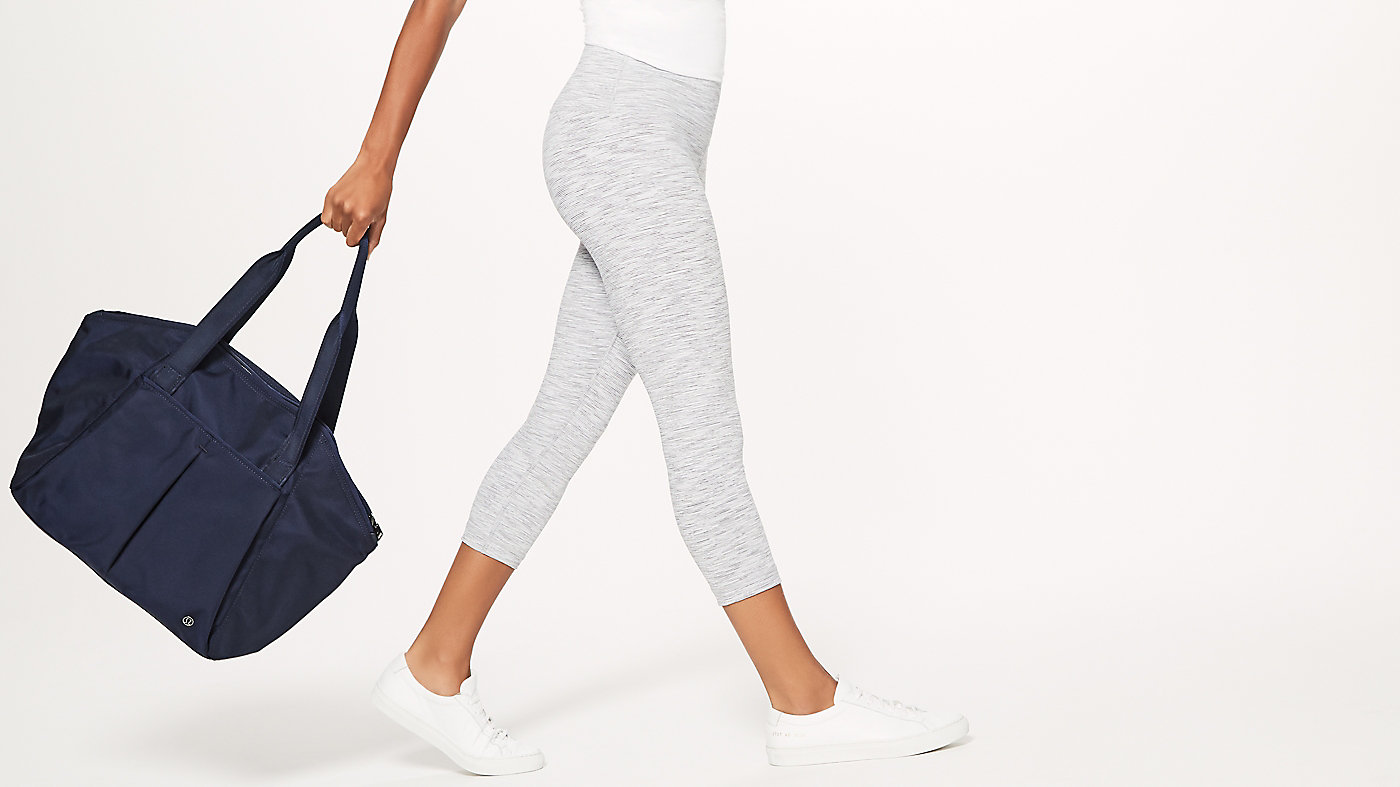 ---
STORAGE
Exterior pockets for easy access to your essentials
---
stowable straps
Yoga mat straps stow away when you don't need them
---
laptop pocket
An interior padded pocket fits a 15" laptop
---
storage
Interior wet/dry pocket and removable shoe bag keep sweaty gear separate
---
dimensions
38cm x 23cm x 37cm (15"x 9"x 14.5")
---

Free To Be Bag
is rated out of
5
by
20
.
Rated

1

out of

5
by
LJ10
from
Not worth the money, very disappointing bag!
It looks stylish and the leather looks good but it gets super heavy when I fill with my gym cloths and it's definitely not everyday use or to-go-to bag. And the worst part about this purchase is the zipper came off after few uses!! So now it's just sitting in my closet useless.
Date published: 2016-12-28
Rated

5

out of

5
by
Calvinator
from
I want all the colors, If I only needed that many bags.
This is perfect! It's HUGE. I used it as a carryon onto the plane and I fit snacks for my 4 year old, books, iPad, a vinyasa, water bottle, my free spirit bag... plus when I needed to carry my kid, I put my light jacket into the bag! The side pockets were perfect. I put my phone, ID and boarding pass in the smaller zippered pocket so they wouldn't get lost, and the larger pocket right next to it (which isn't zippered) I put some protein bars so I could grab them when I needed them. The camelback kids cup also fit in the same pocket. I did misplace a few things in all the pockets, but overall that's a me issue, not a bag issue! I love that it has a large zippered pocket on both sides inside of the bag, and the two mesh pockets inside were perfect for extra cash, lip balm and small items. I am totally in love with this bag! It seems like when I needed more space, it magically expanded to fit whatever I needed. If it ever wears out (which it had better be awhile!!) I will get another one. So worth it!!!
Date published: 2016-06-30
Rated

5

out of

5
by
MCF4289
from
Fabulous Gym Bag
Recently purchased this bag at my local lulu in solid black! The bag feels sturdy and high quality. I love the straps on the front for a yoga mat that tuck away for a weekend trip. The pocket in the front is great for a water bottle. The bag has two large zippered pockets, a smaller mesh pocket, and a mesh pouch that can hold a cell phone. It also includes a small bag for shoes or dirty clothes after a work out. There is plenty of space inside for a change of clothes/shoes/makeup bag/hair essentials for showering after the gym and the compartments help keep me organized. Definitely love this bag and look forward to having it for a long time!
Date published: 2016-06-18
Rated

5

out of

5
by
DanceGirl567
from
Great Work Bag!
I got this to replace my old work bag and am really enjoying it so far! As a dance teacher that works at several different studios, I find I have a lot of stuff to carry around and it all fits into the bag easily without feeling too ginormous. I really like all the pockets to keep things organized! Got it in black, and like that it doesn't look too "plasticy" as some of the other black bags do. It seems pretty sturdy too so it should hold up well.
Date published: 2016-06-08
Rated

4

out of

5
by
asmy06
from
Ginormous
Love the numerous pockets in this bag to keep my life organized. I like to use it on the go from work to the gym or other transitional events. Doesn't look too unprofessional and definitely does not look like a gym bag, as intended. It is a bit heavier than I expected for a bag. Slightly larger than the written description, however. Didn't realize until viewing this page again that my bag did not come with the separate shoe bag, but it's no big deal. Shame, though. You'd think that ordering online would mean everything comes intact.
Date published: 2016-06-03
Rated

5

out of

5
by
Roccoluv
from
Nice Gym Bag
Seems to be made well. Got the Zinfandel color and it looks rich. I haven't used it yet but I think I'm going to like it a lot!
Date published: 2016-06-01
Rated

3

out of

5
by
CAH5
from
Don't buy on final sale
I was very excited to see that this bag was on sale as I had contemplated buying it for a while now! At first the bag was great, it's a great size and perfect for the gym and everyday life. However, after a few uses I see the lululemon patch on the bag fell off, leaving 4 small holes in its place. It's disappointing to think that the bag was potentially only on sale for its quality in production. A bag that costs that much money shouldn't have things just pop off it so easily. I guess I have learned my lesson in purchasing items that are on sale for future fear that the product is only there due to its quality...
Date published: 2016-05-03
Rated

5

out of

5
by
Jenuine
from
I was looking for a bag to use for my commute down town to work to hold items like my lunch, gym clothes, book, etc. As soon as I saw the Free To Be Bag in store, I knew it would be perfect! I originally purchased it in black and have been using it for the past two weeks. I love it so much, I actually went back to the store yesterday and purchased it in the dark purple colour (which is sold out online).
Date published: 2016-05-01
Rated

5

out of

5
by
SueR
from
Love this bag!
I just bought this bag and absolutely love it. Great fabric, looks beautiful, easy to clean, not too heavy compared to my old leather Lulu bag. Tons of pockets to keep things organized and big enough to accommodate all of my gym and work essentials (gym clothes, running shoes, small towel, gloves, travel sized toiletries, laptop and lunch bag). Plus there's an exterior non-zipped pocket for a water bottle and straps for a yoga mat. I also love that the bag is business appropriate so if I have to run to a client meeting before hitting the gym, I can do so feeling stylish. I can't say enough good things. Love this bag! I would also like to offer clarity on other people's criticisms. It is worth noting is that the bag's laptop pocket is only padded on the outer side of the pocket. I don't think that matters but some might find that to be a deal breaker. I also tend to carry my MacBook in a leather case in the event I'm using a different bag the next day. Though a laptop case fits into the pocket width-wise with room to spare, it is too tall to zip the bag's laptop pocket shut with the case inside. Again, that really doesn't matter to me but others might find that bothersome.
Date published: 2016-04-30
Rated

5

out of

5
by
sayde1780
from
Lots of nice details and overall design
I really didn't "need" this but had to have it and after using it for a week am so glad I got it. Like others have said, it is a versatile design, doesn't scream gym bag like a duffel. Actually has the shape of a very large Vuitton Alma! complete with the zipper on top that you can zip to either side or to meet at the center. Little strap with snap to keep handles together -- can be used to hold keys. Accommodates a change of clothes, towel and a terry yoga mat. Plenty of pockets. Nothing to not like. I had been carrying a large purse and separate small tote and now everything fits in this one over the shoulder bag, so your hands are free. Love this even more than I thought I would.
Date published: 2016-04-30