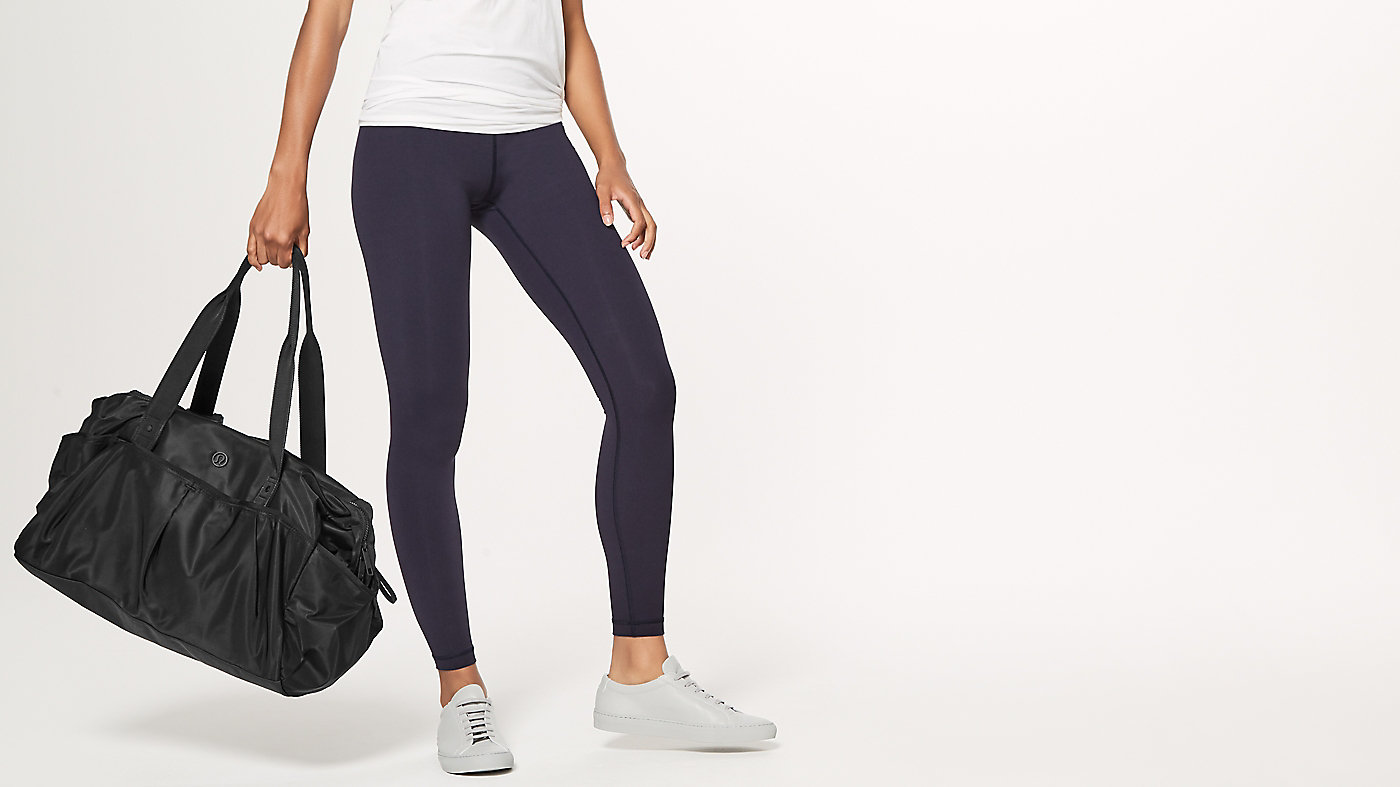 ---
media pocket
Gives you quick phone access
---
stowable straps
Yoga mat straps stow away when you don't need them
---
volume
tested to hold 22kg (50lb)
---
HEAT-RESISTANT POCKET
Removable heat-resistant pocket for your hair straightener
---
SECURE POCKET
Interior zippered pocket for your sweaty gear
---
dimensions
47cm x 32cm x 23cm (18.5" x 12.5" x 9")

All Day Duffel (Heat)
is rated out of
5
by
24
.
Rated

3

out of

5
by
Quadrasaurus
from
1st impression.
Just received this bag.. Haven't used it yet.. I was a little shocked by the quality. Seems to be lacking compared to previous LLL i've owned. I'm a little disappointed that there isn't 1 extra loop built on so you could unstrap the shoulder piece, rather than it being built into the seams...I don't understand the point in that On the bright side, there is what seems to be lots of space inside the bag for what I bought it for.. I guess i will have to give it the benefit of the doubt and load it up.
Date published: 2017-07-27
Rated

5

out of

5
by
samanthalm
from
Multi-Use Magical Bag!
I bought this bag a few months ago when I was getting tired of bringing a backpack to class and I absolutely love it. I use it when I travel as my carry-on, I use it for school and obviously, as a gym bag. It has handles to hold my yoga mat that I love! It also has so much room inside the bag! I'm always amazed at how much it can store inside. Definitely would recommend!
Date published: 2017-07-23
Rated

3

out of

5
by
KelseySchells
from
Its an ok bag.
I bought this bag yesterday, was really excited to have the shoulder strap and yoga mat strap. Took the bag for a test drive to work today in hopes to utilize the yoga strap. I put my yoga mat in the strap which of course it un curls to fit the strap size ( its rather large) So my lululemon mat then turned into a massive roll in the strap which was very inconvenient and hard to balance the bag with the shoulder strap. Since the straps don't have any clips, and you are reliant on sliding the mat in/out, I wrestled with it for 15 minutes to free my mat ( rubbery straps & rubber mats don't play nice together). The straps are great in theory but when it comes to using them they are a more of a pain than a convenience, I would recommend not using them.
Date published: 2017-03-29
Rated

4

out of

5
by
BioBenny
from
Great Bag, Bad Zipper
I loved this bag. It has lots of room and compartments to keep everything organized. I have only used it 3 times and the zipper is already starting to fail. It just won't zip up sometimes and the bag is practically empty. I was really excited for this bag and I'm disappointed I won't get much use out of it because its falling apart :(
Date published: 2017-03-28
Rated

2

out of

5
by
mimilar
from
disappointing bag with a beautiful print
I had been wanting to get a new dance bag for a while and I saw this one. I was super excited because it had a beautiful print and it seemed like a great bag! In less than a year the zipper threads have started to unravel so a portion of it is no longer attached to the bag. Also, the lululemon logo fell off (which I don't really care about but it was still annoying). I am very disappointed that an expensive bag could fall apart in such a short time.
Date published: 2017-02-14
Rated

5

out of

5
by
Denden
from
All Day Duffel
This bag is what I now use for all my weekender events. It holds everything I need for a 48 hour getaway. Lots of pockets. Durable and good to look at. So happy with my purchase.
Date published: 2017-02-09
Rated

5

out of

5
by
bloodmuffin
from
EXCELLENT
This bag is everything I didn't know I needed out of a gym bag. The number of pockets is astounding. I like that there are two drink holders so I can carry my water bottle AND a protein shake. It's spacious enough to carry a full workout outfit, an extra change of clothes, all my mini toiletries, plus my gloves for weight lifting and kickboxing (so I'll never forget them at home again). The yoga straps are nice to have for the same reason. I also discovered that it makes a good overnight bag, and the waterproof material seems to work well to keep the interior dry even in the rain. Also it's very cute -- I got it in the plum-colored print and am pleased with how stylish it is. Overall, I can't recommend this bag enough.
Date published: 2017-02-08
Rated

5

out of

5
by
CrissyB
from
Love this Bag
I haven't used this bag yet (just received it yesterday ;) But I know I'm going to love it. I was looking for a replacement bag for weekend getaways and light travel. (I knew it might be too big for the gym, although I may use it for that too). Cute bag, and just the right size for a two or three day getaway.
Date published: 2017-02-07
Rated

5

out of

5
by
tayTVB
from
Perfect for Kickboxing!
I started kickboxing a couple months ago and my husband noticed me constantly juggling my gloves, wraps, water bottle and towel. He came home with this duffel bag for me and it has changed EVERYTHING! It's so spacious - everything I need fits comfortably and considering the size, my items aren't hide to find inside the bag. I love the compartments (lulu has always been an expert on compartmentalizing their duffels) and find it to be a high quality bag. I agree with the reviewers that the material is BEYOND. It feels luxe but durable! Super comfortable and not too heavy at all. I've yet to try this with my manduka pro mat (it's pretty heavy) but I'm certain it's up to the task!
Date published: 2017-02-02
Rated

5

out of

5
by
lulouise
from
Must have bag!!
This bag is super spacious and has pockets all around the interior as well as exterior - it makes the perfect weekend getaway bag and of course my go-to gym bag. Even if you pack it to the brim, it still looks stylish and doesn't look bulky. Love that the shoulder strap easily tucks into the side pocket when you're not using the strap. Comes with a handy hot sleeve so you can carry your hair straightener / hot tools around and also a drawstring shoe bag! The material is super soft and luxurious to the touch. Highly recommend this bag!
Date published: 2017-01-31