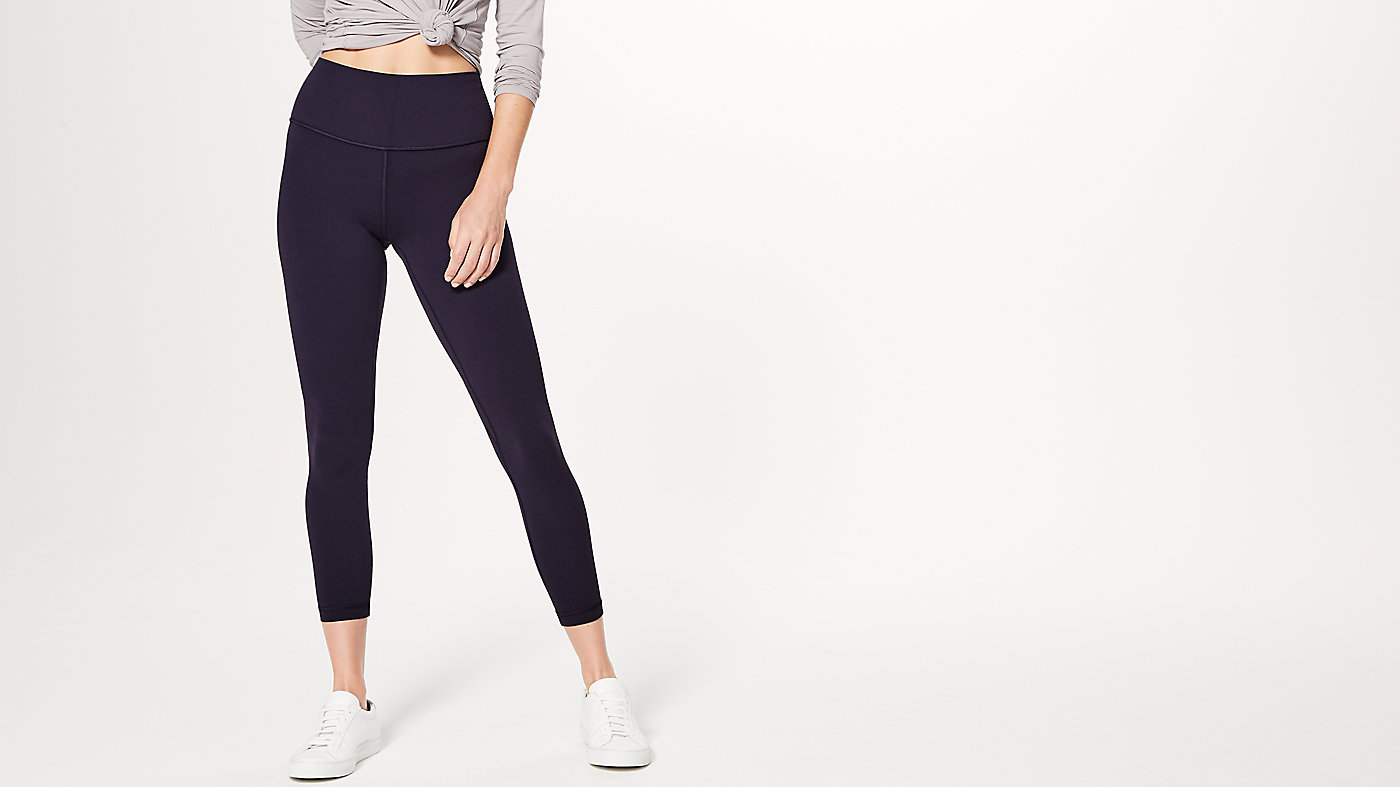 ---
Comfortable waistband
Lies flat against your skin and won't dig in
---
high-rise
Keeps you feeling covered and secure
---
ankle length
7/8 length stays out of your way
---
naked sensation
Engineered to feel like your go-to, lightweight, second-skin layer—you'll forget you're wearing this next-to-nothing sensation as you move
---
HIDDEN CARD POCKET
Hidden pocket in waistband holds your key or card
---
Align Pant II
is rated out of
5
by
1742
.
Rated

2

out of

5
by
loverofyogaaaa
from
Soft but low quality :(
I was in love with these pants when I first bought them. However, as I continued to use them, they began to pill a LOT. Like, a lot. The seams are starting to get weak, and the quality does not seem up to par for a $100 pair of pants. I really do appreciate how comfortable they are, but I like my other pairs a lot better. As a dancer, I need a good pair of leggings, and these did not do it for me.
Date published: 2017-06-23
Rated

3

out of

5
by
HTDP
from
Love/Hate
The Align pants are by far the comfiest pants I have ever owned, I have 4 pairs of them. BUT... the quality of them is cheap. Like I said, I have 4 pairs, and every single one of them is either unraveling at the seams or strings are coming out of them everywhere. I just got a new pair and have only worn them twice & they are already unraveling at the bottom.
Date published: 2017-06-23
Rated

2

out of

5
by
AndiePandie
from
Piling problem is real!
These pants a buttery soft but after a couple wears it started piling in a couple of spots. Dissapointing for my first lululemon pants. I still wear them cause they are so comfortable but would not repurchase again.
Date published: 2017-06-23
Rated

3

out of

5
by
Allifromalaska
from
So flattering and comfy but...
These are my absolute favorite leggings I have ever bought! They look so amazing on and are so soft- they really have that "barely there" feeling that everyone talks about. They looked great at first but a couple months in, they have started to pull at the seams in a few places- definitely not the quality they should be. This is so sad because they are my go to for yoga, or lounging around the house!! I wash them exactly how I was told, but they still are not holding up like they should. I am hoping I got one from a bad batch because I am really wanting to get another pair.
Date published: 2017-06-23
Rated

2

out of

5
by
gigixo
from
The pilling
I bought two pairs of the align pants and I loved these pants. After two wears the seams on the leg came undone, and the fabric started to pill.
Date published: 2017-06-23
Rated

4

out of

5
by
caroline679
from
My favorite yoga pants
These fit so well and the material feels so good. Benefits: breathability, thin, and feels really snug
Date published: 2017-06-22
Rated

2

out of

5
by
LIVEINMYLULUS03
from
Amazing at first but...
I recently bough these plants in black and dark forest. The first time wearing them I noticed the fit amazing, were super flattering, and were very comfortable. However, after wearing one time it looks like the some of the seams have started to unravel and the piling is horrible. I am also super careful when it comes to washing my lulus. I ALWAYS put them in the wash under hand wash and never put them in the dryer. It's super disappointing because I loved the material and color but am nervous to wear because of how bad the seams are unraveling. Wanted to love these would not recommend.
Date published: 2017-06-22
Rated

2

out of

5
by
Iowagirl95
from
Disappointed in the quality
I reviewed a pair of these pants for Christmas as a gift because I had seen them in stores and fell in love with the fabric. For the first few washes they cleaned up nicely. Keep in mind, I never put them in the dryer. ALWAYS let them air dry. Although, after about the 6th or 7th wash the fabric began to start peeling off along the thigh area & the quality look of the pants is no longer there. These pants are overpriced for the quality of the item.
Date published: 2017-06-22
Rated

3

out of

5
by
BusinessChic
from
So Comfy, but Lacking in Quality
I purchased my first pair of Aligns in Dark Carbon on a Tuesday. Wore them on a flight on a Thursday of that same week for the first time and noticed that the seam underneath the waist area had already begun to unravel. I was so disappointed. The pants had never been washed. Worn literally once and were purchased two days prior. I spoke with a rep via live chat who offered to return them for me, but I would have had to wait until the return process was complete to receive a gift card as means to replace the pants. I felt like this wasn't the best customer service. We all know how quickly Lululemon products sell. By the time I would have received a gift card, the pants would have been sold out. Sure, I could just purchase another pair myself, but I've ordered from other retailers who have sent me faulty merchandise, and they will send me a new, replacement item immediately along with a free return label to ship the faulty item back. To me, that's the better customer service. So I opted to go to my local store and try to exchange them, as I want to thoroughly inspect the pants myself rather than ordering them online, but my local store is down to its last pair, and I likely won't make it there until the weekend. All in all, the pants most definitely feel like butter. I am 5'4, 120 lbs and a 4 TTS in all other Lululemon pants I own, and the Aligns were no different. Perfect for trekking through an airport and wearing on a chilly flight. I just wish the quality was better, especially at its price point, and that Lulu's customer service was a bit more "speedy."
Date published: 2017-06-21
Rated

2

out of

5
by
kryssie
from
LOVE them but HATE them
I love these yoga pants because they are so comfortable!! I would always tell my friends that they were perfect to wear doing yoga and working out. However, I have only worn them 4 times & have seen a lot of piling & they have become really loose. These are my absolute favorite but now I cannot wear them because I constantly have to pull them up and take off the piling one by one.
Date published: 2017-06-21