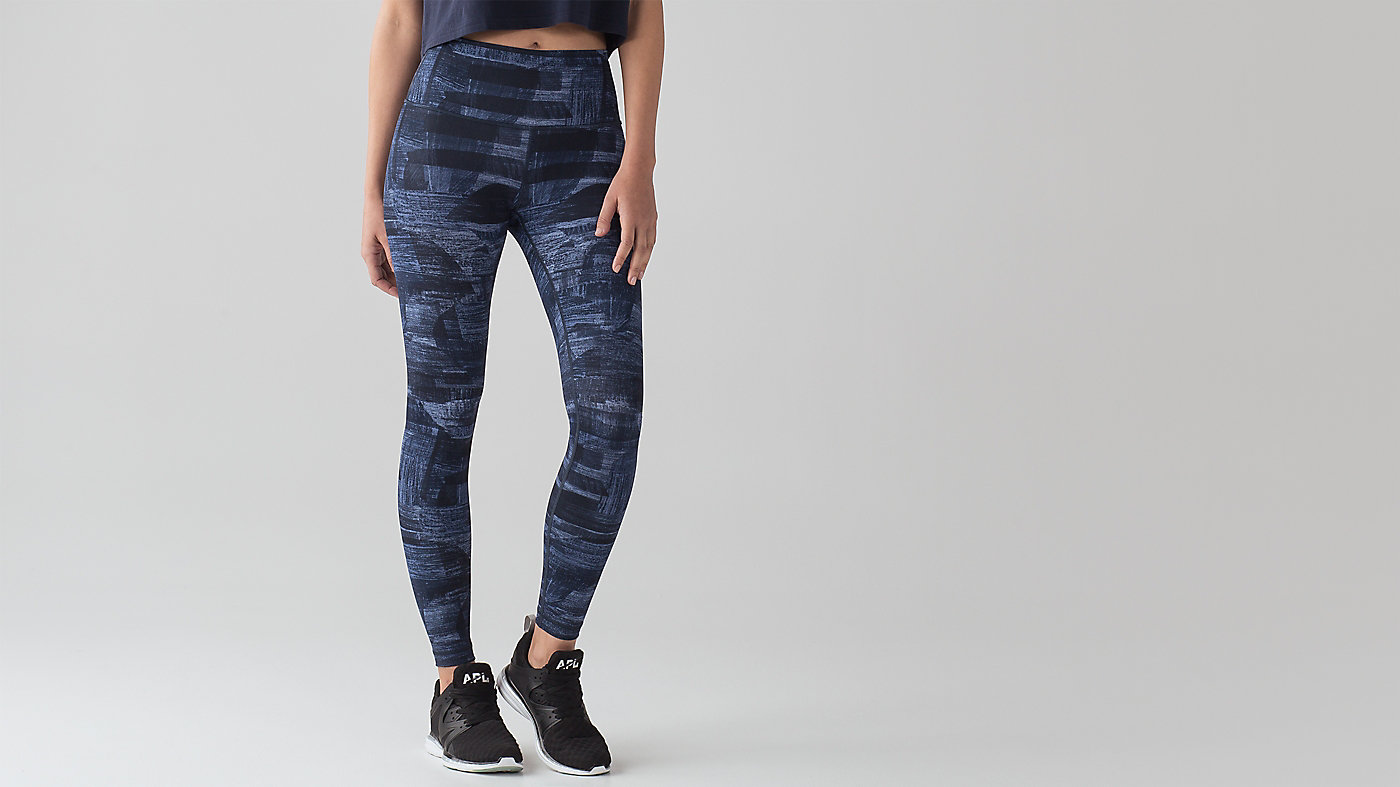 ---
lycra®
Added Lycra® fibre for stretch and shape retention
---
Comfortable waistband
Lies flat against your skin and won't dig in
---
Waistband storage
Pocket on the waistband holds your key or card
---
hugged sensation
Engineered to feel like a comfortable embrace throughout—it holds you close and moves with you
---

Wunder Under Hi-Rise Tight *Full-On Luxtreme
is rated out of
5
by
63
.
Rated

2

out of

5
by
amdvorsk
from
Not for active wear!
I wore these to Pilates once and the pilling was ridiculous. In between the thigh area and on the butt was horrible. I could feel them pilling as I was working out. Very disappointed in this purchase.
Date published: 2017-06-22
Rated

2

out of

5
by
ableiss
from
Loved at First, But now Pilling
I bought these in store 3 months ago. I have used these for yoga and weight training with the occasional errand run. The first couple months these were the best go to pant, but with the price I thought the quality would have held up better. The pilling has become unbearable. I followed the washing/care recommendations and still didn't help. These are still a great pant, but I expected more.
Date published: 2017-06-22
Rated

5

out of

5
by
elainey
from
Best leggings ever
Oh my gosh, i never went in to lululemon because I knew they were kind of pricey. However, after seeing some really nice leggings on a few women on several different occasions while I was at the gym, I just had to ask, "where did you get your leggings", their answer was, "lululemon"! I finally had to go in to lululemon and I ended up buying a pair! THEY ARE THE ABSOLUTE BEST! Also, The sales associates are very kind and helpful and very knowledgeable! I ABSOLUTELY WILL BE GOING BACK SOON TO PURCHASE MORE! FYI, I bought the "wunder under"! They are amazing!
Date published: 2017-06-21
Rated

2

out of

5
by
niica
from
great at first, but they stretched out...
Loved this tights so much for the first couple of wears....and then they stretched out. I own a decent amount of lulu and follow all care instructions. I was also fit in store, so I'm confident I purchased the correct size. Sad to say, it's ridiculous for me to wear these now because I am constantly having to pull up and adjust the tights from ankle to waist. Really disappointed because they're not cheap.
Date published: 2017-06-21
Rated

1

out of

5
by
em33
from
So disappointed
I loved these leggings when I first bought them. They were so comfortable, but that only lasted for about a week. I cannot even wear these leggings out in public anymore because the pilling is so so bad. I have not had them for very long and never even wore them to the gym, and the pilling is still ridiculous. I have had leggings from other companies for years without any pilling so I do not recommend spending this much money on these leggings because I can't even wear them anymore.
Date published: 2017-06-18
Rated

4

out of

5
by
BethPerry
from
I love these, despite scary reviews. ;)
Sometimes I read reviews on here and am curious what expectations people have.... I've only recently started buying lulu pants, I have a lot of bras and one day I saw a print in the Wunder Under Full on Luxtreme in an e-mail and had to go check it out. I tried them on and FELL IN LOVE. These pants are AMAZING, they are tight, secure, and make me feel slim. The waistband is the perfect tightness; keeps the tum in but doesn't cut off my circulation. I love LOOOVE how fast these dry when I take a hot yoga class or just get really sweaty in a spin class. I wash in cold and lay out to dry. I've seen slight pilling but I also have thick thighs that rub so I'm never too shocked when I see pilling. The only con is they do start to stretch out if I wear them too often / for a full day of non athletic activities. I sometimes wonder if I should have sized down. Also they sometimes fall down when I'm running, but seem to stay/secure to my body once I start sweating a little / my body temp rises. For reference, I am 5'4" and 155lbs and wear a size 8-10 in jeans, and my Wunder Unders are a size 8.. I could possibly size down but the 8's are fine.
Date published: 2017-06-17
Rated

1

out of

5
by
LoveDogs
from
Poor, negative customer service in-store, and quality issues...again
I had previously left a positive review for the WUP high waist null, but I can't amend my review to reflect the poor quality and poor customer service that has since ensued. So here's my amended review. I purchased these pants on March 14, 2017. Initially I liked them although 20 minutes or so into my workout they would bag at the knees and crotch (I tried a size down and they were sheer, so I stuck to my regular size). I liked the pattern, so I stuck with them even though I always reach for my tight stuff and fast & frees over them. I went to put them on and noticed two small snags near the crotch, one of which was actually a pin-sized hole. If I could upload a photo I would, but it is obvious from the in-tact rip tag the still looks brand new and unwashed that I haven't worn these more than a few times. I brought them, my receipt and the cardboard hang tag into the store to exchange them given that these are clearly defective. However, the associate refused stating that the only thing they can do is have their tailor sew the hole. If the hole was along a seam, I can understand the offered resolution. However when the hole isn't along a seam, a see fix is going to create a small bulge. Even though I am part of the old R & D and purchased these at a discount, the performance and quality of these tights is unacceptable given the price point. My lululemon purchases and positive feedback to others has greatly diminished over the past year mainly due to quality. Generally I've had positive experiences with lululemon standing behind their gear. Unfortunately this latest incident has finally driven me away from lululemon. By the way, the associate did say that if I found the stitching uncomfortable, they'd take them back. I surmise that Lululemon doesn't value my time in that I have to wait for these to be stitched, pick them up in store, then wear and wash them. Then, return to the the store, hope that they stand by their word. Or, was I suppose to lie in the first place and say that the stitching bothered me, and by the way, there's a hole??
Date published: 2017-06-11
Rated

3

out of

5
by
AmberRunnerSkierHiker
from
HAAAAAATE The Hi-Rise, Fit Okay Otherwise
These pants are better than similar alternatives from other brands (specifically the under armour, which are similar material and only cost $59, but slide down just from walking and I ended up donating after wearing for a frustrating 2 months). The main body of these tights fit well and for the most part stay put. They are close to being perfect, but there are a few flaws that keep them from being as comfortable and useful as they should be. First, the picture of the model for these Hi-Rise pants make it appear that the waist goes up to your bellybutton...maybe if you're 6' tall. But I am only 5'4" and the waist reaches over my rib cage and to the bottom of my bra line. It looks absolutely ridiculous!!! It's even too much for the trendy "high pants" look where people wear high rise "mom" pants with a tube top (or sports bra). There is very little skin showing between my pants and my bra (I hate that look anyway but thought maybe that's why they made these?). The only benefit of a waist this high is during winter when it adds an extra layer of warmth over your body. The waist is tight around my rib cage, but if I do certain workouts, the waist starts to slip down over the narrower part of my waist, at which point it makes wrinkly bunched up rolls under my shirt where I would otherwise have a completely flat and tight stomach. The high waist might be good for people who have a pudgy belly and are hoping to smooth it out, but if you are in good shape, it actually has the opposite effect. The Luxtreme material is better than the Luon for keeping the pants from pilling, but the Luxtreme is a little less sturdy than the Luon (because they are a thinner material and they have a tighter fit). You have to put them on kind of like pantyhose, and you have to be careful not to dig your nails in too much and poke a hole in them if you have long nails. The Luxtreme also gives less of a "smoothing" effect over butt dimples than the Luon. If you have a fairly nice backside, it won't make much difference, but if you have more dimples it will be more noticeable in the Luxtreme than the Luon. The Luxtreme is more comfortable in all weather because it keeps you warm and covered up in the cold, but cool in the warmer weather, whereas Luon will keep you warm all the time, and is too hot in warmer weather. The length of these pants is a bit long for my 5 feet 4 inches, but they just bunch a small amount at the ankles and I think they look good. I tried the 7/8th pants but those just ended up looking like I was wearing pants that were too small, more like high waters. Also, I wear a size 6 in wunder unders and I am 120 pounds, but have worn them when I was only 110 pounds also, and they fit perfectly for both weights (I am for the most part the same size at both weights, I just have more muscle at the higher weight so that might be why). Size 4 fits, but is just small enough that it creates a bit of a squeezed sausage look in my butt and thighs, but in the 6 I look toned and strong. I wear a 4 in their shorts though, so I guess the size difference is my thighs. Hope that helps someone figure out their size. Lastly, because the Luxtreme is a more sleek material than Luon, they will eventually slide down a bit when doing more intense workouts, where Luon never does that. I have tested these in several situations before reviewing and have done an hour cycling class, a body pump (weight lifting) class, and gone for a 3 mile, a 5 mile and an 8 mile run in them as well as spent a whole day running errands. They stay put for the cycling, body pump and 3 mile run, but once you get to the longer runs, they do start to slide a little bit, and when the run is over (or during the run), you will find yourself cinching them back up because they are falling in the crotch area a bit. I have a well defined backside, which is better for these pants because your butt will hold up the pants better than if you have a smaller, flatter behind where there's nothing to hold the pants in place over your waist. I have 2 pairs of wunder unders in Luon and they never ever slip or slide, even on a 10 mile run. All that being said, I would recommend the Luxtreme over the Luon because they will look new longer, and for me, I want these to last several years because of how expensive they are. I don't want to replace my $100 pants every year. But keep in mind that you have to be more careful with them so you don't get holes in them. I have 17 pairs of Lulu pants (5 wunder under and 12 other) and 5 pairs of shorts that I have purchased over the last 10 years. The quality of the pants has gone down over the years, as my 10 year old pants (while not stylish anymore) have held up better and look newer than my 2 year old pants (that really need to be thrown out because I have to take a sweater de-baller to them almost every time I wear them and they are faded and look old and worn out). I also have these tights in the "low rise," which aren't much better, since the waist on those looks like the picture for the "hi-rise" (the waist goes up to the belly button). My 10 year old low rise Lulus hit right at the hip bone and are true low rise. I wish they'd go back to those, if so these would be perfect running pants.
Date published: 2017-05-26
Rated

5

out of

5
by
krisketts
from
why did i wait so long to buy these
As a lover of "leggings as pants", I'm not really sure why it took me so long to buy these. For years I was in a constant cycle of buying the cheap leggings from department stores every few months because of wear and tear and holes. I bought these at the beginning of this year, and after one wear, I threw away all of my other leggings. Since they aren't cotton, they breathe easily, and I can wear them to bed without getting hot. Even though they aren't exactly for running, I've completed both short and long distance runs and never had a problem during either. My only complaint about them is that I only have one pair! I also love that they are high-waisted because I hate having to constantly pull up other department store leggings. Once they are on, they stay in place!
Date published: 2017-05-22
Rated

3

out of

5
by
Nagrom
from
Not Ideal Seam Placement
These pants are awesome! Very comfortable, easy to wear, great for yoga and barre. My ONLY complaint is that the mid-line seam creates (excuse the expression) a camel toe. I wish the seam was styled and/or placed differently.
Date published: 2017-05-18