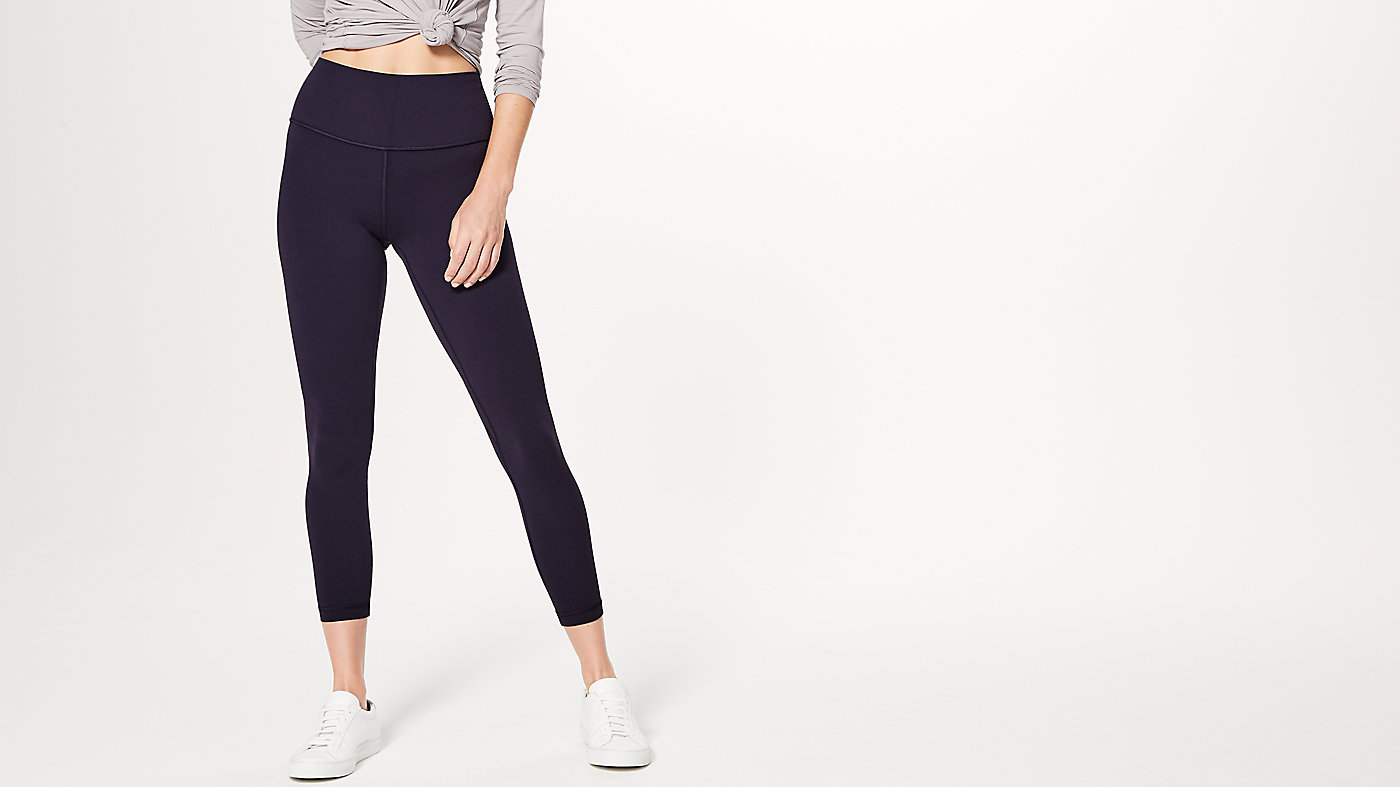 ---
Comfortable waistband
Lies flat against your skin and won't dig in
---
high-rise
Keeps you feeling covered and secure
---
ankle length
7/8 length stays out of your way
---
naked sensation
Engineered to feel like your go-to, lightweight, second-skin layer—you'll forget you're wearing this next-to-nothing sensation as you move
---
HIDDEN CARD POCKET
Hidden pocket in waistband holds your key or card
---
Align Pant II
is rated out of
5
by
1745
.
Rated

3

out of

5
by
sweetpea24
from
Super Soft but...
I've only had these maybe 3ish months and noticed one seam is starting to become loose, the inner thighs are pilling really bad, and I've also noticed the fabric is a little see through. :/ I love Lululemon and really want to love these! There's just a few problems.
Date published: 2017-06-24
Rated

2

out of

5
by
keldunn
from
love hate relationship
I have the align I pants and they are the softest, most comfortable pants I've ever worn, but i swear they pilled just looking at them. They almost completely pilled from top to bottom but they're so comfy and I have them in black so it's easy to just wear them all the time, but recently the seams between my legs have opened up a bit and soon I won't be able to wear them anymore! I've only had them for less than a year and the pilling started as SOON as I got them ):
Date published: 2017-06-23
Rated

3

out of

5
by
Megs93
from
Poor Quality For The Price
I own 4 pairs because these pants are everything, BUT 3 have started unraveling in the same place. So I had 2 fixed and then 1 fully replaced because I had already had that pair fixed before. Lulu is good about exchanged and fixing things. If you are having issues go into the store and demand they fix or exchange the item because its too expensive not to. Its not your fault they lowered the quality, but kept the prices the same. SO GO GET WHAT YOU PAID FOR!
Date published: 2017-06-23
Rated

2

out of

5
by
loverofyogaaaa
from
Soft but low quality :(
I was in love with these pants when I first bought them. However, as I continued to use them, they began to pill a LOT. Like, a lot. The seams are starting to get weak, and the quality does not seem up to par for a $100 pair of pants. I really do appreciate how comfortable they are, but I like my other pairs a lot better. As a dancer, I need a good pair of leggings, and these did not do it for me.
Date published: 2017-06-23
Rated

3

out of

5
by
HTDP
from
Love/Hate
The Align pants are by far the comfiest pants I have ever owned, I have 4 pairs of them. BUT... the quality of them is cheap. Like I said, I have 4 pairs, and every single one of them is either unraveling at the seams or strings are coming out of them everywhere. I just got a new pair and have only worn them twice & they are already unraveling at the bottom.
Date published: 2017-06-23
Rated

2

out of

5
by
AndiePandie
from
Piling problem is real!
These pants a buttery soft but after a couple wears it started piling in a couple of spots. Dissapointing for my first lululemon pants. I still wear them cause they are so comfortable but would not repurchase again.
Date published: 2017-06-23
Rated

3

out of

5
by
Allifromalaska
from
So flattering and comfy but...
These are my absolute favorite leggings I have ever bought! They look so amazing on and are so soft- they really have that "barely there" feeling that everyone talks about. They looked great at first but a couple months in, they have started to pull at the seams in a few places- definitely not the quality they should be. This is so sad because they are my go to for yoga, or lounging around the house!! I wash them exactly how I was told, but they still are not holding up like they should. I am hoping I got one from a bad batch because I am really wanting to get another pair.
Date published: 2017-06-23
Rated

2

out of

5
by
gigixo
from
The pilling
I bought two pairs of the align pants and I loved these pants. After two wears the seams on the leg came undone, and the fabric started to pill.
Date published: 2017-06-23
Rated

4

out of

5
by
caroline679
from
My favorite yoga pants
These fit so well and the material feels so good. Benefits: breathability, thin, and feels really snug
Date published: 2017-06-22
Rated

2

out of

5
by
LIVEINMYLULUS03
from
Amazing at first but...
I recently bough these plants in black and dark forest. The first time wearing them I noticed the fit amazing, were super flattering, and were very comfortable. However, after wearing one time it looks like the some of the seams have started to unravel and the piling is horrible. I am also super careful when it comes to washing my lulus. I ALWAYS put them in the wash under hand wash and never put them in the dryer. It's super disappointing because I loved the material and color but am nervous to wear because of how bad the seams are unraveling. Wanted to love these would not recommend.
Date published: 2017-06-22